Can't compete with this: Google's coding competitions unite on one website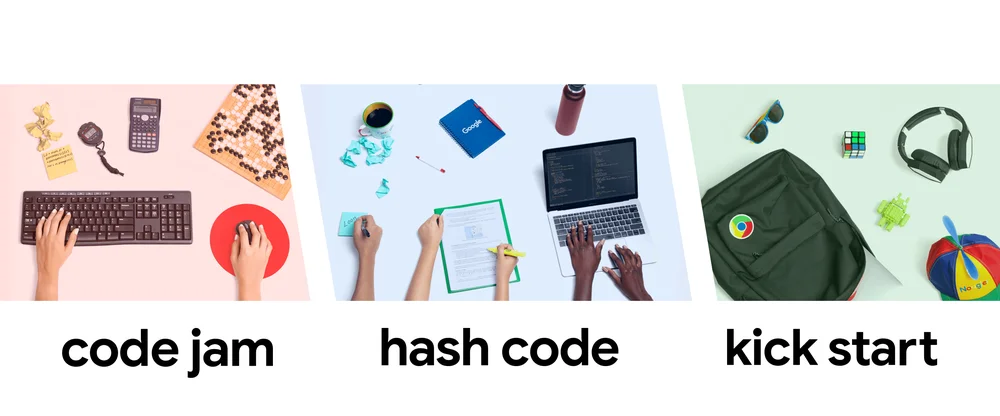 Google's coding competitions—Code Jam, Hash Code and Kick Start—have challenged and enthralled coders around the world for years. Now, they're coming together under one website—g.co/codingcompetitions—for a better-than-ever competition experience. Here are four things you can expect from this new update:
1. All competitions are now global.
We're officially bringing Code Jam, Hash Code and Kick Start to everyone around the world! It's important that our competitions are as accessible as possible and expanding our programs means more coding, more learning and a bigger community around the world.
2. There's a competition for everyone.
Every competition offers something different to meet you wherever you are in your coding journey. Want to code alongside friends or other programmers? Give Hash Code a try. Dipping your toes in coding or competitive programming for the first time? Kick Start is a great option. Looking for algorithmic puzzles that challenge even the most skilled coders? Code Jam has got you covered. Find your fit, and go ahead and try them all to flex different coding muscles throughout the year.
3. A smoother experience with one user profile.
With a unified user experience and fresh look to the website, you'll be able to easily navigate through resources and discover opportunities for practice. Plus, for each competition you participate in, we'll provide you with a personalized certificate of completion that commemorates your feats!
4. New features to get you involved, faster.
From notifications within your user profile to receiving information about competitions you're registered for, the new home for Google's coding competitions is a one-stop-shop to grow, challenge and celebrate your programming skills.
With these updates to our coding competitions programs, you don't want to miss the 2019 season. Head to our g.co/CodingCompetitions site now and sign up to be notified when registration for our competitions kick off in 2019. In the meantime, we invite you to connect with Code Jam, Hash Code, and Kick Start online, and try past problems so you can be ready for all kinds of coding fun when registration opens. We're excited to see new faces on the scoreboards next year—will you join us?