Grow with Google comes to NYC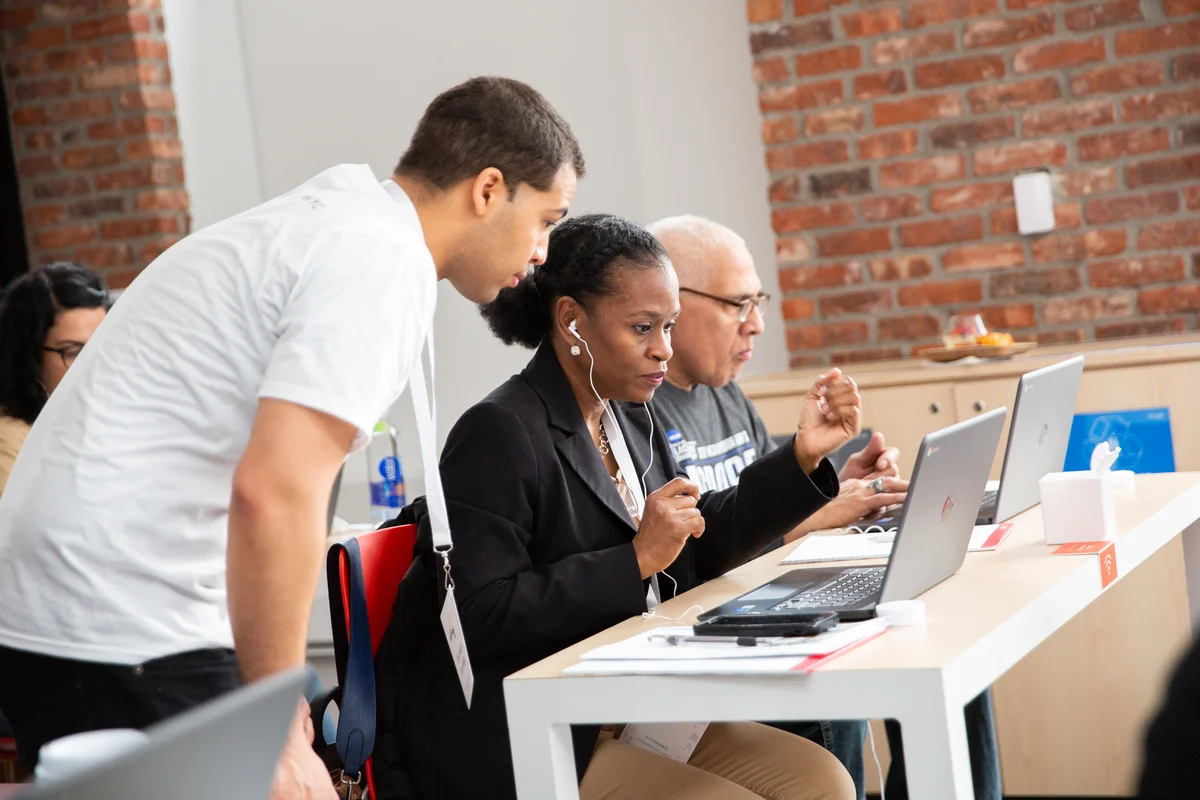 I was raised by a single mom who worked multiple jobs, and despite being generally exhausted, she stressed the importance of hard work and perseverance. Following her example, as a kid not only did I work hard in school, I dove into after-school activities. From there, I received a full scholarship to a prestigious secondary school, and went on to a career here at Google. Today, my passion for creating opportunities for others is rooted in the opportunities afforded to me. That's why I'm proud to be involved with Grow with Google, our program to help individuals and small businesses gain the skills that can set them up for success, today and in the future.
From Albuquerque to Bozeman to Cleveland, Grow with Google has criss-crossed America, supporting diverse people looking to use digital skills to find jobs, advance their careers and grow their businesses. Today, we're bringing the tour to New York City for five months with the opening of the Grow with Google NYC Learning Center—right on the ground floor of our Chelsea office, in the heart of Manhattan.
Open to everyone, the Grow with Google NYC Learning Center will offer free hands-on workshops in partnership with community organizations, one-on-one coaching and community events. The 11,000 square foot space will have three classrooms, offering multiple classes per day and will be open six days a week.
Learning Center classes will cover a range of topics all focused on digital skills. So whether you're a business owner who wants to reach new customers, an educator interested in bringing digital tools into your classroom, or looking to learn new skills to grow your career—there's a class for you. Several hours a week, we'll have Googler experts on hand to answer specific questions through one-to-one coaching. We're also partnering with other local community organizations dedicated to digital skills building and training, including Goodwill, Per Scholas, Hudson Guild and many others.
We're proud to set up the Learning Center in New York City, home to our largest office outside of California. We started in the city nearly 20 years ago with a few Googlers working out of a Starbucks on 86th Street; today, we're home to over 7,000 employees across three buildings. Recently, we announced that we'll invest over $1 billion to establish a new campus here, Google Hudson Square. As we plan to grow our own presence in New York, it's our responsibility to support the neighborhoods and communities we call home.
Since 2011, Google has contributed more than $150 million in grants and employee-matched giving to New York nonprofit institutions. We've partnered with the New York City Public Library System to provide free Wi-Fi hotspots to public school students and families without home internet access. To help create economic opportunities citywide, we've funded programs like MotherCoders NYC, provided space to organizations like Black Girls Code and hosted Cornell Tech while its permanent campus on Roosevelt Island was under construction. And just last month, we opened a new lab for CodeNext for Black and Latinx high school students to learn coding and gain the skills and inspiration they need for long and rewarding careers in computer science-related fields.
The Grow with Google NYC Learning Center is the next chapter in our commitment to helping create economic opportunity and, in doing so, strengthening our ties to our neighborhood and the five boroughs. To learn more and sign up for free classes at the Learning Center, visit
g.co/GrowNYC
. My hope is that New Yorkers will be able to access opportunities here like the ones I was lucky to have growing up.